PROTECTING BUSINESS PRODUCTIVITY AND OPERATIONAL FLEXIBILITY FOR YOUR CUSTOMERS
The Cyber Security offer available in the Esprinet Cloud Marketplace, adapts to the various business models (MSP, CSP) you intend to undertake and develop on your customers.  Cyber Security solutions ensure high productivity and business continuity by protecting all devices, both fixed and mobile, used by employees. Today, it is increasingly important to prevent attacks on the security of corporate networks, thus avoiding damaging theft of your customers' data that would have a major economic impact on your organisation.
Our Cyber Security partnerships offer the best protection by meeting the needs of companies of all sectors and sizes, solutions are available in different business models: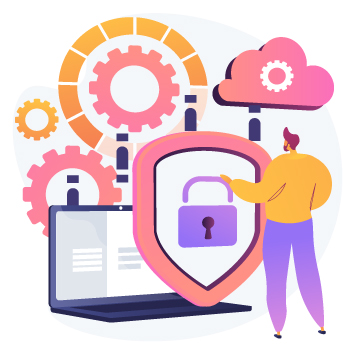 TURNKEY ANTI-MALWARE PROTECTION SERVICE FOR CLIENTS, SERVERS
Protection and Support Service based on the Trend Micro Worry Free Business Security Services solution.
Real turnkey anti-malware protection service for Client, Server, Mobile and E-mail - depending on the platform - for companies, institutions and organisations in the area.
100% SaaS solutions, with no need to install or manage on premise resources, zero maintenance and easy to deploy.

Protection for Client, Server, Mobile and Email
Do you want to offer it to your customers?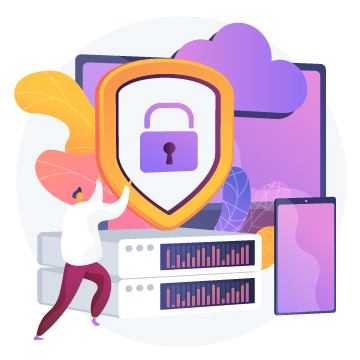 TREND MICRO WORRY FREE SERVICES
MACHINE LEARNING-BASED PROTECTION SERVICE
Trend Micro™ Worry-Free Services uses a combination of advanced threat protection techniques to eliminate security gaps in any user activity and any endpoint. It automatically learns, adapts and shares information about threats in the environment on an ongoing basis:
Automatic detection and response against a growing variety of threats, including fileless and ransomware
In-depth investigation capabilities and centralised visibility across the network using an advanced EDR toolset (optional Endpoint Sensor add-on)
An all-in-one lightweight agent

 Highly reliable machine learning, which analyses files before and during execution for more accurate detection
More accurate detection of advanced malware, including fileless, cryptomining, ransomware and more
  Interference cancellation techniques, including censuses and lists of authorised users, applied at every level in order to reduce false positives
Behavioural analysis with of scripts, injection, ransomware, memory and browser attacks
Do you want to offer it to your customers?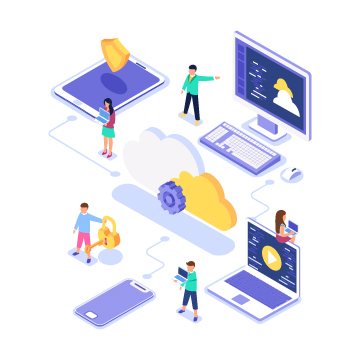 SOPHOS CENTRAL - SYNCHRONIZED SECURITY
BETTER SECURITY FOR MICROSOFT 365
Sophos Central is a cloud-managed platform that combines all security needs in one extremely easy-to-use package.
It provides advanced protection for the entire corporate network: endpoints, mobile devices, web, email, Wi-Fi, encryption, servers and network.
Being a cloud-based solution, there is no need for upgrades, new servers or maintenance, plus there are significant time savings in terms of IT staff hours and maximum focus on corporate security.

 Simple, cloud-based management
Continuity and security for mail
Do you want to offer it to your customers?
CHECK POINT HARMONY EMAIL & COLLABORATION SUITE SECURITY
UNIFIED SECURITY FOR USERS, DEVICES AND ACCESS
Comprehensive protection for Microsoft 365, Google Workspace and all collaboration and file sharing apps:
Block advanced phishing, malware and ransomware attacks before the inbox
Protects sensitive business data (DLP) from leaving the organisation
Prevents account takeover and protects your users
Protects all corporate communication lines, including Slack and Teams

  Blocking sophisticated phishing attacks
 Blocking malware without affecting productivity
Protection for Office365 and GSuite
Do you want to offer it to your customers?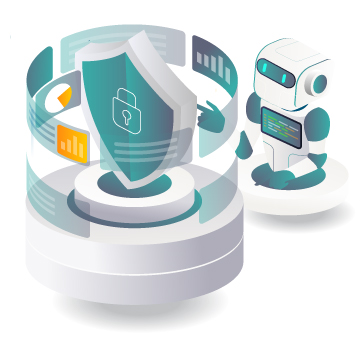 PROTECTION FROM RANSOMWARE AND ZERO-DAY THREATS
ESET Protect Advanced provides enhanced ransomware protection and a zero-day attack solution with sandboxing in the cloud.
It is based on advanced technology involving machine learning and in-depth behavioural inspection.

 Cloud-based sandbox analysis
Do you want to offer it to your customers?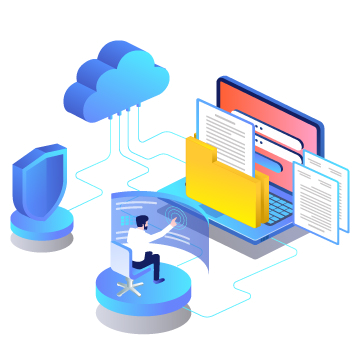 TREND MICRO DEEP SECURITY
UNIFIED SECURITY SOLUTION FOR THE HYBRID CLOUD
Trend Micro Deep Security software delivers comprehensive security in a single solution, built specifically for virtual, cloud and container environments.
Deep Security enables consistent security regardless of workload.
It also provides a rich set of application programming interfaces (APIs) so that security can be automated and does not affect the productivity of work teams.

 EDR functionality of server endpoints
  SIEM for advanced threat research
Do you want to offer it to your customers?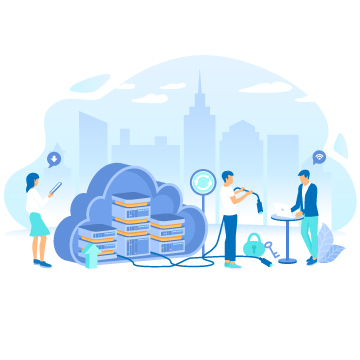 KASPERSKY HYBRID CLOUD SECURITY
MULTI-LAYERED PROTECTION FOR MULTI-CLOUD ENVIRONMENTS
It offers unified security for every stage or scenario of the transition to the Cloud.
Suitable for both Cloud migration and native Cloud scenarios, it protects physical and virtualised workloads running on-premises, in a data centre or in a public Cloud.
It enables a secure transition to the Cloud, without compromising protection levels.
The solution has features that guarantee the highest level of cybersecurity, protecting all workloads: physical, virtual or cloud-based.

 Multi-level threat protection
Do you want to offer it to your customers?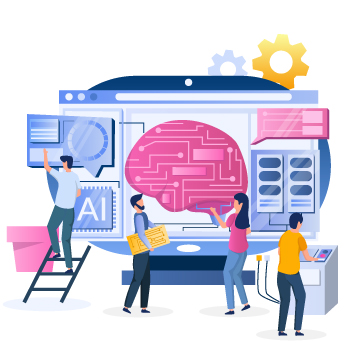 TREND MICRO AND MICROSOFT 365
ADVANCED PROTECTION AGAINST EVOLVING THREATS
Using advanced machine learning technology, the Trend Micro solution integrated with the Microsoft 365 cloud platform is able to block ransomware and thus offer a secure digital experience.
The Trend Micro solution thus enriches the Microsoft Cloud Platform.

  Protection against identity theft
 Free diagnostics and malware removal
  +250 Mil blocked threats per day
  Advanced Machine Learning
Do you want to offer it to your customers?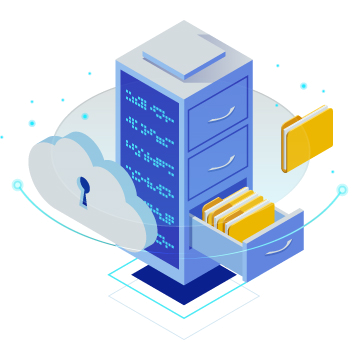 BARRACUDA ESSENTIALS AND MICROSOFT 365
MORE SECURITY WITH BARRACUDA ESSENTIALS
Barracuda Essentials is Barracuda's suite of cloud services designed to help organisations extend security and data protection capabilities in Microsoft 365 environments.
The aim is to help end customers simplify and secure migration to Cloud environments, especially in the case of Microsoft 365 and Azure.
Barracuda Essentials provides the security, archiving, backup and recovery tools that organisations need for a successful Microsoft 365 deployment. Using Barracuda Essentials, IT administrators can gain greater visibility and control over the information in their organisation, thanks to a suite of cloud services that combines multi-layered security, storage and backup functions.

Cloud backup and recovery
Do you want to offer it to your customers?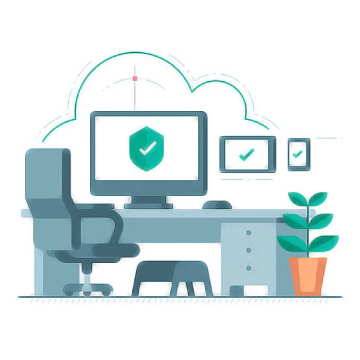 KASPERSKY ENDPOINT SECURITY CLOUD
MAXIMUM FLEXIBILITY AND SECURITY
Kaspersky Endpoint Security Cloud includes the classic set of computer security technologies, such as file, network and email traffic protection, firewall, network attack blocking, behaviour detection and exploit prevention. This solution provides companies with the flexibility to support the new employee mobility trend, offering protection for one PC or file server and for multiple mobile devices. Employees can thus continue to work in peace on different devices that can be Windows PCs, Macs, smartphones or tablets (with Android and iOS operating systems) and, at the same time, companies can be protected against cyber threats. Kaspersky Endpoint Security Cloud is a 'user-friendly' solution: the simple and intuitive management console is available via a browser on laptops and mobile tablets. Protection begins immediately after the installation process. Pre-configured security profiles are automatically applied to any new devices added, saving IT administrators resources. If further fine-tuning is needed, administrators can create additional profiles manually or modify existing ones.

 Against file, web and mail threats
 Protecting mobile devices
 Maximum flexibility and scalability
Do you want to offer it to your customers?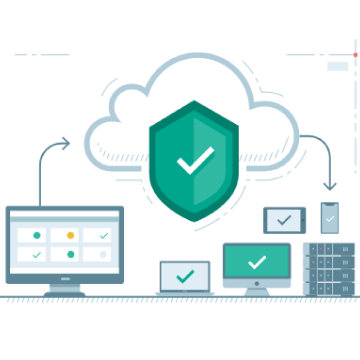 KASPERSKY ENDPOINT SECURITY CLOUD PLUS
ADDS SECURITY FOR MICROSOFT OFFICE 365
Kaspersky Endpoint Security Cloud Plus is a cloud-hosted solution for business protection that requires no additional software or hardware acquisition. It provides high protection for Windows desktops and servers, Mac OS workstations, Android and iOS smartphones and tablets thanks to predefined security policies developed by Kaspersky experts. It is available in monthly subscription mode to optimise costs. It is equipped with the Shadow IT discovery functionality that can detect unsafe sharing of corporate data in the cloud and check whether users spend a lot of time on social media and messaging tools. In addition, this version includes Kaspersky Security for Microsoft Office 365 to protect communications and collaboration on Office 365. It also allows users to block access to unnecessary or unauthorised cloud resources, keeping data safe and employees focused and productive.

 Against file, web and mail threats
  Protecting mobile devices
 Maximum flexibility and scalability
Do you want to offer it to your customers?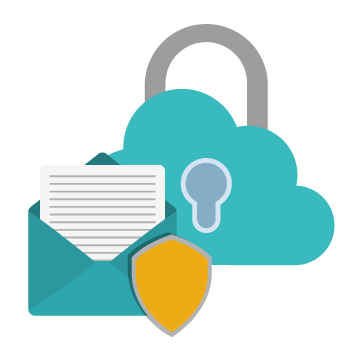 ESET CLOUD OFFICE SECURITY
ADVANCED PROTECTION FOR MICROSOFT 365 APPLICATIONS
ESET Cloud Office Security enables high levels of security for Cloud-based e-mail and storage services (Microsoft 365 Exchange Online and OneDrive) with a high level of protection based on proven anti-spam, anti-malware and anti-phishing technologies.

Do you want to offer it to your customers?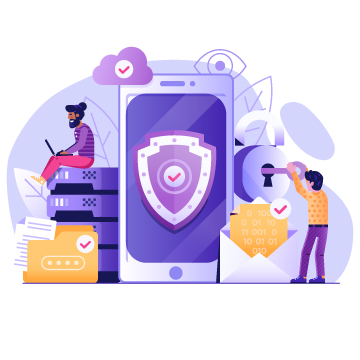 TREND MICRO WORRY FREE SERVICES ADVANCED
MACHINE LEARNING-BASED PROTECTION SERVICE
It is a service that blocks e-mail threats before they reach the network by detecting ransomware, BEC, credential phishing and advanced attacks.

 Integration with vendor API
Identifying zero-day and hidden threats
Do you want to offer it to your customers?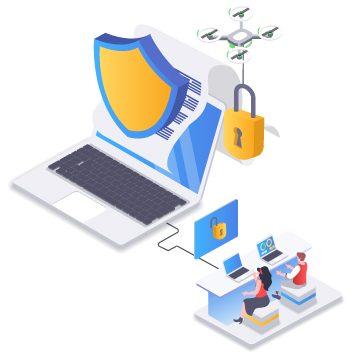 TREND MICRO WORRY-FREE XDR
DETECTION AND RESPONSE FOR EMAIL, ENDPOINTS AND SERVERS
Trend Micro Worry-Free XDR combines Worry Free Services Advanced and Trend Micro Endpoint Sensor.
It ensures automatic correlation of information from sensors collecting detection and activity data between endpoints and e-mails and advanced threat detection.

 Advanced levels of endpoint and messaging protection
  Endpoint, email and server investigation capabilities
 Single display, single console
Do you want to offer it to your customers?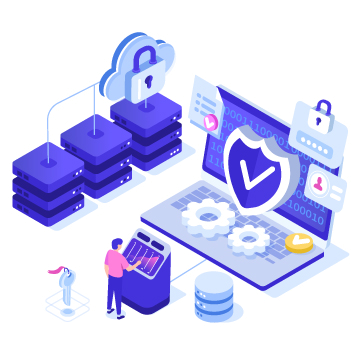 TREND MICRO WORRY-FREE WITH CO-MANAGED XDR
Includes Worry-Free XDR and 24×7 co-managed detection and response service for managed service providers.
It helps providers contain threats to their customers, while relieving the burden on overburdened managed service providers.

  Automatic Endpoint & Email Correlation
  Protects the entire customer base at once
Do you want to offer it to your customers?

KASPERSKY EDR OPTIMUM E ENDPOINT DETECTION AND RESPONSE
FOR ADVANCED DETECTION OF ELUSIVE THREATS
It provides complete visibility over all endpoints in the corporate network, enabling automation of routine tasks to detect, prioritise, investigate and neutralise complex threats and APT-like attacks.

 Protection against advanced threats
  Saving with a simple and automatic tool
Analysis of the true extent of threats on the entire network
 Root cause identification
 Avoidance of further damage thanks to automatic response
Do you want to offer it to your customers?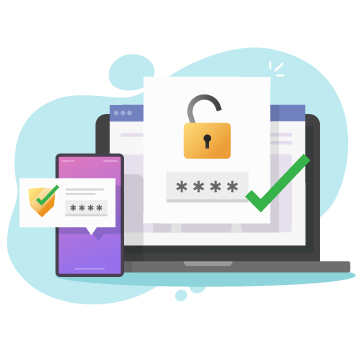 SYNCHRONISATION OF LOCAL DIRECTORIES AND SINGLE SIGN-ON ENABLEMENT
The Azure Active Directory (Azure AD) identity management service for businesses offers Single Sign-On access and multi-factor authentication to protect users from 99.9 per cent of cyber attacks. Regardless of whether people are on-premises or working remotely, with Azure Active Directory you can offer seamless access to all apps to enable you to stay productive anywhere. In addition, it automates user lifecycle workflows and provisioning and saves time and resources through self-service management.

 Single Sign-On Functionality
 Conditional Access and Multi-Factor Authentication
 More secure interaction between internal and external users
 Easy integration of identity
Do you want to offer it to your customers?